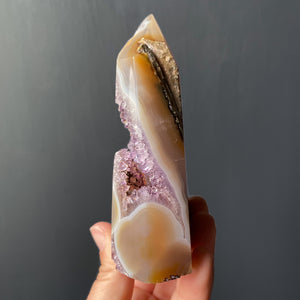 AMETHYST & AGATE TOWER
This striking and soothing specimen weighs 10oz and measures approximately 2.5x1.5x4.5"
Amethyst has been highly esteemed throughout the ages for its stunning beauty and legendary powers to stimulate and soothe the mind and emotions. It is a remarkable stone of spirituality and contentment, known for its metaphysical abilities to still the mind and inspire an enhanced meditative state. Its high frequency purifies negative energy or attachments, allowing one to remain clear and centered while opening to spiritual direction. It initiates wisdom and greater understanding, and is a stone of comfort for those grieving a loss. Agate is thought to aid in self analysis, promoting self-acceptance and building self-confidence. Agate can improve concentration and analytical abilities, leading the holder to practical solutions.
This specimen is from Brazil.