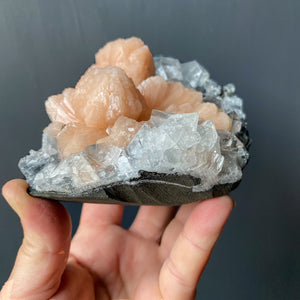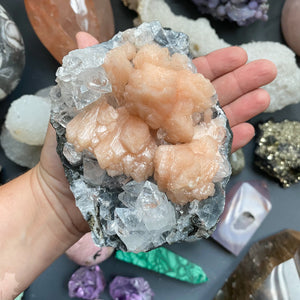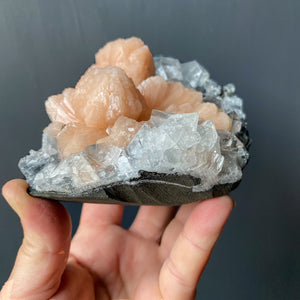 APOPHYLITE STILBITE & CHALCEDONY
This gorgeous specimen is made up of a beautiful, sultry base of black Chalcedony, topped with bright points of Apophylite and what feels like dollops of beautiful pinky peachy Stilbite that shimmer in the sun due to the micro growth of Apophylite covering some of their sides. It weighs 1.66lbs and measures approximately 4.5x2.5x3.5"
Apophylite is the stone of light and a very high energy stone. It has an excellent ability to transmit energy, will raise your spirit and is uplifting to simply keep in the room with you. Apophylite is specifically a powerful tool for connection to the higher world.  Chalcedony encourages reflection and meditation, helping to prepare for action while holding back words one might regret. It is considered a nurturing stone, one that can absorb negative energy and dissipate it before it can be passed on. It promotes opening the mind to new ideas, instilling feelings of generosity. Stilbite connects the heart chakra with the upper chakras, bringing love into everything that you do. It has a more calming energy, being known as a stone of love, creative energy and gentle self-expression.
This specimen is from India.