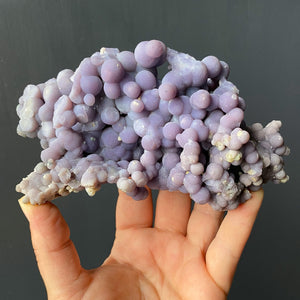 GRAPE AGATE
This chunky grape Agate is a collector's piece. It weighs just under 1lb and measures approximately 6x3x2.5"
Grape Agate/Botryoidal Chalcedony promotes inner stability, composure and maturity. It's gentle and protective qualities encourage a sense of security and self-confidence to express yourself to the world. It allows for a deep and intense level of meditation in a short period of time.
This specimen is from the Sulawesi Barat province of Indonesia.