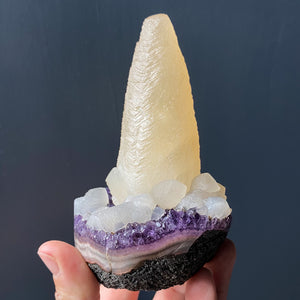 AMETHYST & CALCITE
This incredible specimen features a sparkly base of richly colored purple Amethyst that is banded with Agate, topped with an incredible growth of etched Calcite! This is sure to be one of the stars of your crystal collection. This specimen weighs just over 1lb and measures approximately 3.5x3x5"
Amethyst has been highly esteemed throughout the ages for its stunning beauty and legendary powers to stimulate and soothe the mind and emotions. It is a remarkable stone of spirituality and contentment, known for its metaphysical abilities to still the mind and inspire an enhanced meditative state. Its high frequency purifies negative energy or attachments, allowing one to remain clear and centered while opening to spiritual direction. It initiates wisdom and greater understanding, and is a stone of comfort for those grieving a loss. Calcite connects emotions with intellect, aiding in emotional intelligence. It helps energize the being, combating laziness and lack of motivation. Mentally, it stimulates insight and boosts memory by helping you process and assign priority to certain information.  
To clean/cleanse: rinse with water and leave out under the next full moon; on or near a piece of Quartz; or bury in the ground for a few days. 
This specimen is from Brazil.