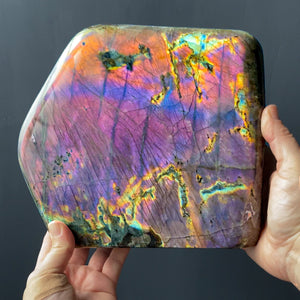 LABRADORITE
This massive Labradorite specimen weighs 14lbs, has a gorgeous full flash on both sides and measures approximately 8.25x2.25x7".
Labradorite is both a protector stone and a bringer of light. It deflects unwanted energies and forms a barrier to negative energies that have been previously shed. Labradorite has some great psychological benefits, as it helps cleanse the mind of psychic "debris" from previous disappointments and remove other people's projections. It can calm an overactive mind and reinvigorate the imagination, and can be a stone of great transformation.
This specimen is from Madagascar.